welcome to our site
Landscape & Hardscape Services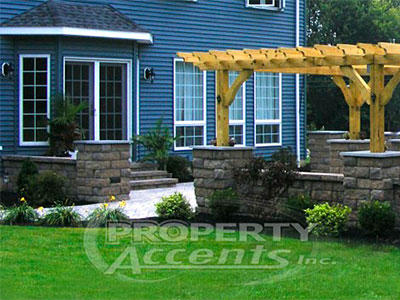 At Professional Property Accents, Inc., we provide customized and personalized landscape design, outdoor living design, excavating, and landscape maintenance tailored to your unique requirements and budget. We are a well-known business serving residential and commercial consumers across West Seneca, NY, and the surrounding areas for many years. Our crew combines cutting-edge technologies and advanced installation procedures to create magnificent landscapes on our clients' premises. We offer comprehensive gardening solutions, ranging from lawn and plant maintenance to plant upkeep. We are the local landscapers to call for detailed, high-quality landscape designs, planning, and installation services. We have consistently handled residential and business landscaping projects, becoming one of the most sought-after companies in the landscaping space. Our expert approach ensures that our clients' properties have easy to maintain, lush green spaces. We provide the best solutions to ensure that you get attractive, long-lasting, and sustainable landscapes. Our focused methodology and commitment guarantee that you are delighted with our services, such as the following:


Landscape Design
Our company focuses on the design of one-of-a-kind landscapes. Years of expertise have enabled us to develop effective landscape design solutions for our clients. Every design we create makes a statement while being functional, inexpensive, and low maintenance. We are experts in combining various components such as hardscapes, greenscapes, water features, outdoor kitchens, fire features, and other elements to get the required effect. This broad range of features is combined in perfect unison to create visually pleasing and low-maintenance landscapes. Along with completely comprehending how to efficiently utilize each of these elements, we also have a firm grasp of the types of layouts that will perform in each circumstance. We are a highly experienced landscaping company that never deviates from quality, reliability, and creativity. We plan and design every element and feature that will enhance your landscape's beauty, usability, and value. We always customize our services, so clients are 100% satisfied with the outcome. Read More About Landscape Design »


Property Maintenance
As a property owner, you want to always maintain the condition of your home and its outdoor spaces. The only way to ensure this happens is to hire a company that works towards providing top-notch property maintenance. Our services are efficient, cost-effective, and thorough, which offers clients excellent value. We possess the necessary skills, training, experience, and resources to deliver high-quality outdoor maintenance solutions to clients. Our property maintenance crew handles everything from lawn and plant maintenance to tree care, hardscape maintenance, and more. We employ cutting-edge technologies and methods, as well as the best fertilizers to ensure that your landscape remains attractive and healthy. We offer 24-hour service to ensure that all work is completed carefully, methodically, and at a price that works for you. When you entrust us with your property maintenance needs, you can rest assured that you will have immaculately maintained outdoor areas that are a joy to look at and use. Read More About Property Maintenance »


Plantings
As skilled landscapers, we know the importance of selecting the perfect variety of plantings to enhance your landscape's beauty, balance, value, and sustainability. The combination of deciduous and perennial trees and shrubs, as well as a range of seasonal and perennial flowers in a range of colors, sizes, and textures, results in breathtaking landscapes. The team uses Digital Custom Designs to offer you layout alternatives for your plants in 3D. We can enhance an existing landscape or create a whole new plan to transform a vacant outdoor space dramatically. Additionally, we can design and install complete landscape solutions for newly constructed homes. We utilize only the best supplies available at the area's finest nurseries and garden retailers. A thorough understanding of these plantings and their functioning in this environment enables us to optimize outcomes. We will assess your site to determine the impact of light, water, existing landscape elements, and soil types on your landscape project. Read More About Plantings »


Outdoor Living Design
Outdoor areas, we feel, should be pleasant, functional, visually attractive, inviting, and long-lasting. That is why our professionals plan and create outdoor living structures with extreme care. We can assist you in designing and installing various features and pieces strategically to maximize your available space. Our team of creative designers can help you develop the perfect outdoor kitchen, patio, deck, outdoor kitchen, or fire feature for your yard and landscape. As needed, we also design and build driveways, paths, patios, arbors, and pergolas. While planning outdoor spaces, we consider movement flow, layout, seating, lighting, safety, usability, and ease of maintenance. Our company never compromises on craftsmanship, and we are also available to help you with any outdoor area renovation or restoration needs. Our experience in this field is unmatched, and we go above and above to bring our customers' landscape ideas to fruition. Read More About Outdoor Living Design »


Stone Patios & Walls
Hardscapes that include stone walls and patios are a crucial aspect of all commercial and residential landscape design. While adding definition to the structure and shape of the outdoor area, stone walls help create separate areas in the landscape, and you can have proper flower beds and planter spaces. These walls can also serve as property boundaries. Patios are a popular outdoor living feature adding expanse to the indoor areas of your home while enhancing the yard's usability. Our skilled designers have in-depth knowledge of modern hardscaping techniques and trends. They work hard to ensure you have the types of outdoor spaces you need. We use high-grade materials in our work, ensuring perfectly finished stone walls and patios that are durable and easy to maintain. Our company handles start-to-end design and installation of these outdoor elements at competitive pricing. Every aspect of your stone patio and wall installation project will be aligned with your ideas and specific requirements. Read More About Stone Patios & Walls »


Fire Features
You can enhance the utility and ambiance of your backyard by adding many features. A fire pit or outdoor fireplace is a fantastic addition to any yard space. These elements can help you make the most of your outdoor settings, and we can assist you in designing a customizable fire feature that meets your family's needs and your specific environment. Adding a custom-designed fireplace or fire pit to your backyard allows you to enjoy it throughout the year. They provide a unique design feature to your garden, creating a warm atmosphere. We build outdoor fire features using premium brick or natural stone, adding to each installation's unique aesthetic. There are never two similar bricks and natural stones, so the structure constantly reveals distinct patterns and tints. Our experts will consult with you extensively to ascertain your needs and preferences for an outdoor fire feature installation. Read More About Fire Features »


Outdoor Lighting
Numerous aspects, one of which is exterior lighting, contribute to creating unique landscapes. This is a crucial fact that most property owners overlook, thus reducing the use of the magnificent landscapes they have constructed. You cannot get a superb effect by just illuminating your home's façade. Numerous components of landscape lighting can be used to improve the atmosphere. While lighting highlights the best features of your surroundings, it also helps to compliment your home's design. We supply our customers with exceptional outdoor lighting solutions. As seasoned planners and outdoor lighting professionals, we understand the strategic placing of proper lighting to achieve the desired outdoor lighting effects. We are committed to delivering superior service in a timely and trustworthy way, and you can count on us for all your external lighting requirements. We treat all projects, large or little, with the same level of care and skill. Read More About Outdoor Lighting »


Excavating Services
If you want excavating services of any sort, we are the business to contact. We have the tools and equipment necessary to undertake residential and commercial jobs of all sizes. Once completed, your property will be ready to construct outdoor features and numerous other amenities such as drainage systems, fountains, and building foundations. Grading and site preparation are critical components of every landscaping project. We will adhere to the site development strategy and employ all available resources to guarantee that you receive the desired result. If you want excavation services for driveways, outdoor living areas, water features, or landscaping and paved facilities, contact us immediately for dependable and safe services. We employ sophisticated equipment to ensure that the excavating job is performed to the highest standards and on time. Our customized approach ensures that you get the results you need. Read More About Excavating Services »

We tailor our solutions to our client's specific requirements while still controlling their costs. Our staff is knowledgeable and approachable, and they are always accessible to provide recommendations and provide insight into the product, components, and design. We ensure that you will get the highest quality services at an affordable price. We possess the necessary experience to deliver exceptional landscape design, build, and planned maintenance services throughout the region. When you collaborate with us, you can access all these solutions under one roof. Our dedication to perfection, our use of high-quality materials, and modern landscaping techniques all ensure incredible value for every client. For additional information on our services, please write to Professional Property Accents, Inc. via this Contact Us form or call us at these numbers - Aaron Morgan: 716-870-6997 or Scott Boll: 716-982-4873. We will take the time to understand your requirements and get your project started.